There are various job application methods, be it through a job portal or via email. While job sites have gained popularity and just by updating profile information talents can apply to their desired positions. Some companies may require applicants to send an email.
So here are the essentials for applying through email, providing you with guidance on composing an impressive email and additional suggestions for effectively pursuing job opportunities using this approach.
The Power of a Well-Crafted Email
Recruiters receive many applicants and your email serves as a sneak peek into your professionalism, written communication skills and enthusiasm. This initial interaction can greatly influence the hiring manager's perception of you. So, let's break down the essential components that will make your job application email stand out from the rest:
Subject Line:
A captivating subject line should be short and to the point. It should be able to convey the idea of the email you send. To ensure that the hiring manager does not overlook the email, include the job title you are applying for in the email subject.
Personalized Salutation:
Starting with "To Whom It May Concern" does not make the best impression. Instead address the recipient by name, if possible. Use their name, such as "Dear Ramnath Sir" or "Hello Parvati Ji".

If you are unsure of whom to address your email then you may generalize the salutation by saying, "Dear Hiring Manager". For situations where the gender of the hiring manager is unclear, use a gender-neutral greeting such as "Dear [First Name] [Last Name]
Opening Paragraph:
Grab their attention with a solid opening paragraph. Write why you would be the perfect candidate for the role you're applying for and the excitement about joining the company. State who you are and share why you're drawn to the organization. This shows that you've done your research and are genuinely interested.
Show You Are a Good Fit:
The body of the email should be concise but impactful. Highlight your relevant skills, your unique experiences and any accomplishments that speak volumes. Briefly mention if you had a successful project or exceeded targets during your previous work.
Compelling Closing:
End with a strong closing, thank the hiring manager for reviewing your application. Express your willingness to provide additional information or portfolio samples if needed. You may also invite the recipient to contact you for further discussion or an interview.
Professionally Sign Off:
At the closing part professionally sign off with options like "Best regards" or "Sincerely", followed by your full name. Include your contact information in your email before you send the email. Make it easy for recruiters to find your contact details if they want to reach you.
Include Relevant Attachments:
Be sure to attach all required materials, such as your well-drafted winning resume or any relevant documents, such as a cover letter if they have requested it in their job description, in the appropriate format.
Also, proofread it carefully to catch grammatical errors or have someone review it to ensure the email, as well as the resume, is clear and professional.
Job application email samples
Please make sure to tailor the provided email samples to your own details and the specific job you're applying for.
1. For a Freshly Graduated Candidate: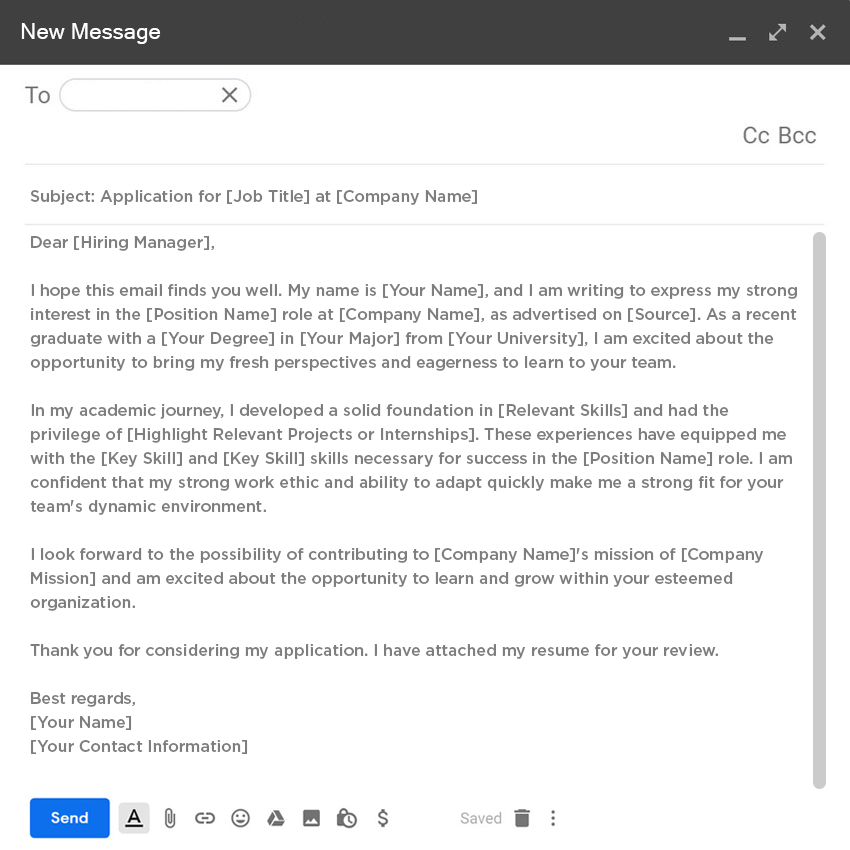 2. For a Mid-Level Professional: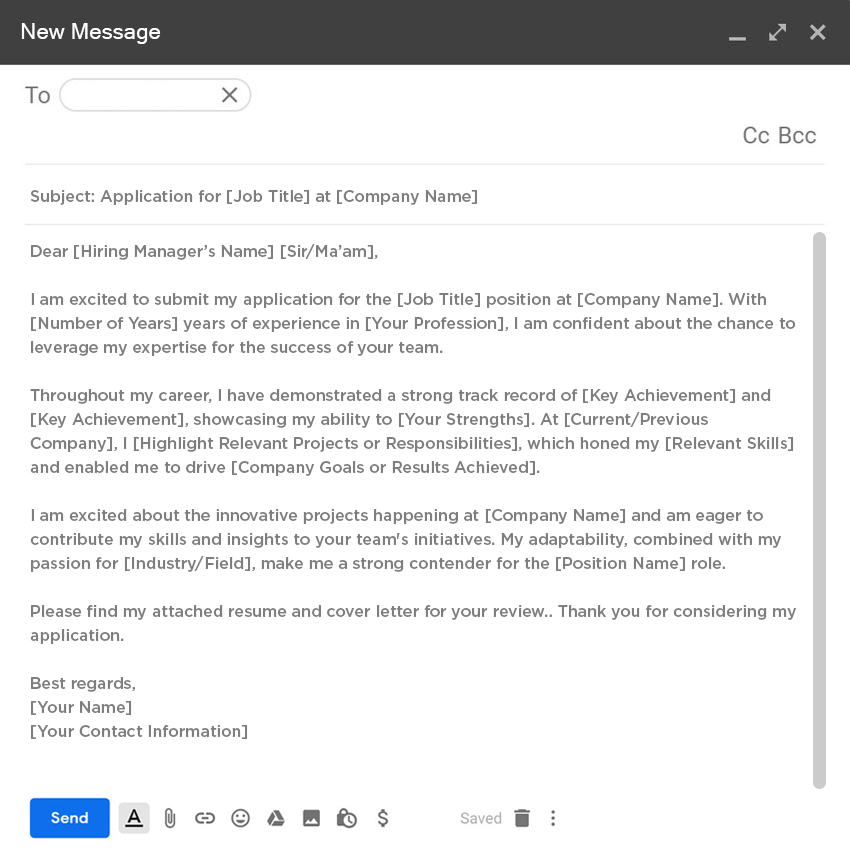 3. For an Experienced Professional: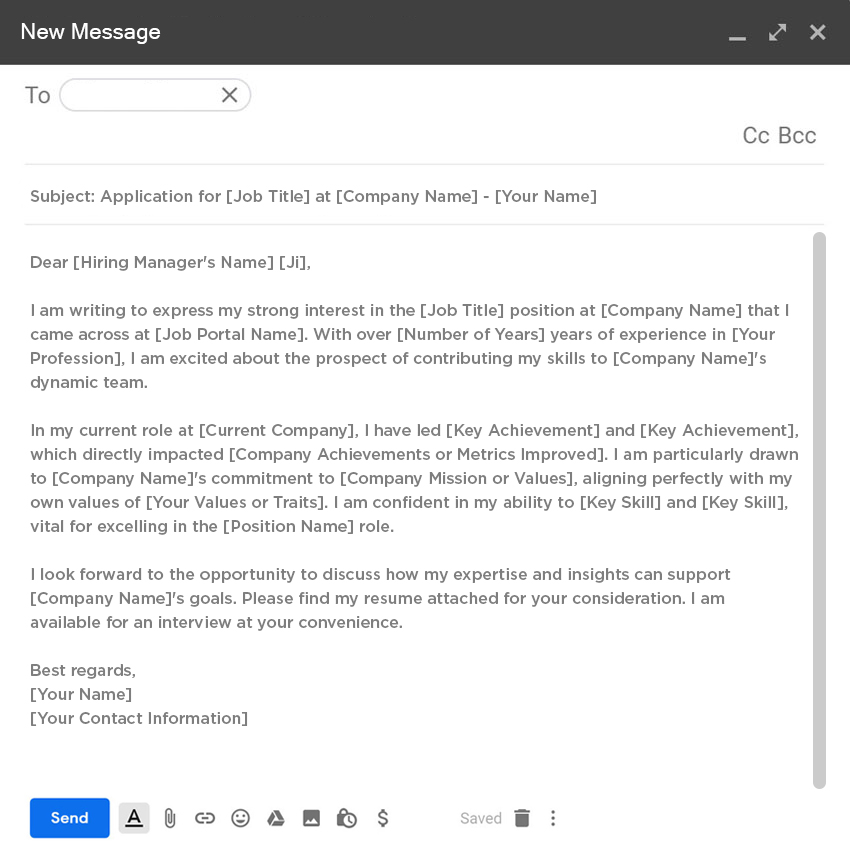 A thoughtfully written job application email can set the stage for your career journey. By following these tips and paying attention to the details, you can present yourself as a dedicated, capable candidate who is worth considering. Remember, your email is the first thing recruiters see, so make it count!