The popular saying "experience is the teacher of all things" lives on and that is where internship programs come in. As the corporate world is getting competitive, employers want to hire people with genuine work experience. For freshers with no hands-on experience, an internship is the best option. Not only does an internship help freshers get work experience but also enhances skills and builds a network.
Contrary to popular belief, an internship isn't about photocopying documents, bringing coffee to the table, or organizing files in a cabinet. The roles and responsibilities of interns have evolved over the years. In many internships, you can find yourself working on projects and working in a small team with executives. Both paid and unpaid internships present opportunities to learn. So to come out successful from the internship program, interns need to prepare and have the right mindset.

Source: smallbizgenius
Benefits of internship
Many colleges and universities focus on internship opportunities and require all students to partake in them. Most colleges in Nepal require students to work as an intern in a company for at least three (3) months. As learning doesn't just take place in the classroom, internships can provide students with several benefits.
In college, interns get hands-on work experience that helps keep their education in practice, connect with people, and gain exposure in their field of choice. Internship continues to play an essential role in preparing students for life after college.

Source: smallbizgenius
As per the survey conducted by merojob, an internship is practiced mostly while pursuing the following academic degree: Bachelor's Degree at 80%, followed by a Master's Degree at 11%. A third close is High School at 8% and rounding it off is Doctorate with 1%.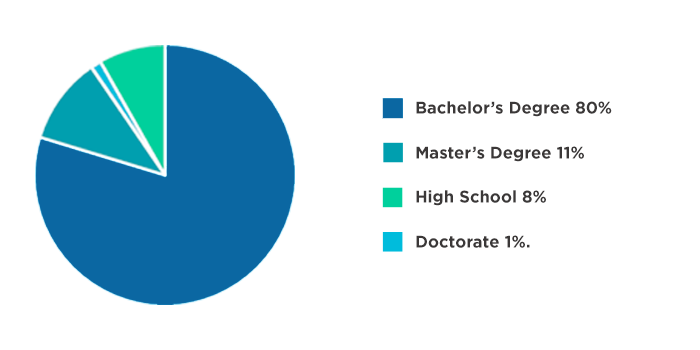 Among the many benefits of the internship program, one of the main purposes colleges have made internships mandatory is so that students get exposed to a new environment and tasks which will contribute to the development of skills. The experience gained while completing the assigned task using technology and communicating with people may relate to career goals.
Experience gained through an internship helps to develop a winning resume and secure a good position relevant to the education received. So internship is not something to be taken lightly as it is the stepping stone that paves the way for your future career.
Process of Getting an Internship
Once the type of industry and the field you want to work in are decided you can start exploring for employers that are looking for interns. Luckily, there are tons of opportunities that one can explore without having to physically visit employers' offices just to apply. The easiest way to look for an internship is on merojob, where you can find a list of internship opportunities waiting for your application.
Furthermore, as a part of the application process for the internship, students are required to submit an internship request letter to their dream organization. The internship request letter is provided by the college stating the reason for joining the internship program.
Apart from the request letter without which no intern is to be accepted to work, to land the internship of your dreams, your resume and cover letter too are essential materials that help you make an impression. Even though work experience is a crucial part of a resume, it is unlikely for HR to expect a student to have an excellent resume. You can still create a successful resume, even if you have no work experience.
For someone who has never worked a day in their life, it is important to write a resume objective that is well researched and well-tailored to fit the intern position you are applying for.
Next Step after Internship
When undertaking an internship, you are with the company for at least three (3) months, with whom you have agreed upon the task deliverable for which you might get compensation or a certificate of completing an internship.
Internships are usually part of the studies, which is why most interns go back to studies after completing their assigned months of internship. However, in some cases, it is possible that the intern gets hired as a trainee and stays in the company. This happens after they have completed their internship program.

Source: smallbizgenius
Trainees are seen as regular employees from day one, they are paid much higher than what interns receive as compensation. In addition, trainees have the advantage of experiencing different parts of the company as trainees know how things work.
Conceptually, trainees join the company to learn, enhance their skills, explore the different departments and understand how it functions. If a company needs an excel expert, a trainee with basic knowledge of excel is hired and trained.
Testimonials
Employer's Testimonial
"Interns must have a learning attitude with an open mind to learn what it takes to do the work. The main requirement from an intern is job readiness for any kind of work situation assigned to them. Interns are usually allocated work related to data verification, data entry, follow-up calls, record keeping, information gathering, and any basic work that help minimize operational tasks of the core team. I have found interns to be of great aid, especially the quick learners who are young and can grasp information quickly. There have been instances where hiring companies had chosen interns as their full-time employees rather than the ones with years of experience." - Shanti Bhandari, Business Director, Rojgari
College Testimonial
"Basically internship prepares the students before stepping into the professional world. An internship helps students get ready for the outside world. Through this practice, students develop practical skills and knowledge which builds confidence levels. It becomes a platform where students can make mistakes and correct them. Internship fulfills the gap from classroom-based learning to experiential learning. Texas International College works closely with Rojgari and merojob to create internship opportunities for all its students." - Deepak Bastola, CAO, Texas College
Student's Testimonial
" Working as an intern I have learned things that were never taught to me before in school or college. I learned basic excel and gained new skills that I previously did not know. This has helped me grow personally and professionally. Overall my internship is going great and I am mastering new things every day." - HR Intern, Rojgari
" After completing my Masters in Business Studies, it was very challenging to get a job. Most jobs required experience of about 1 year and I was a fresher then. Many attempts later I decided to work as an intern to gain experience." - Seejan Aryal, Sales Intern, merojob
" To obtain the Business Administration degree, it was necessary to get an internship certificate. I worked as an intern in a bank for 2 months. For me, an internship is about testing my abilities and interest. Though my paid internship right now is not the subject I specialized in I have gained a lot of practical knowledge." - Bibek Tandukar, Sales Intern, merojob
Need some career-related advice?
Check our blog Career Guide and keep yourself updated.