Many are confused and do not have full-fledged knowledge about trainees. Trainees and Internship at times are used interchangeably however, they are not the same. Colleges tell students to get an internship, no matter whether it's paid or unpaid internship and there is no law related to the internship. However, in the case of trainees organizations that engage the trainees need to know the following scenario before engaging any trainee in their organization.

According to Labor Act 2017, any person may be allowed to work as a trainee under the approved syllabus of any educational institute after agreeing with that educational institution. A trainee shall not be deemed to be labor as per the act. However, if the person is employed contrary to the approved curriculum, he or she will be deemed to be a laborer in regular employment.
The trainee should not be engaged at work exceeding 8 hours a day and 48 hours a week. Trainees are entitled to occupational health and safety arrangements, and medical expenses and compensation in case of an injury at work. The trainee shall be deemed a regular employee if engaged in work other than prescribed.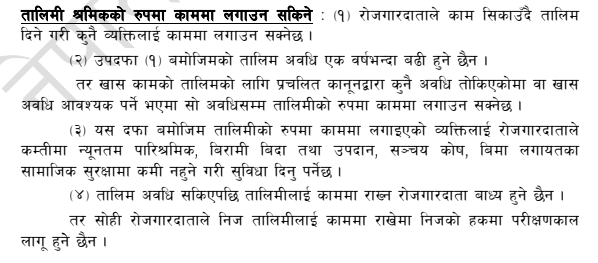 As per the Labor Act, an employer may employ any person as a trainee providing on-the-job training. The period of training must not be more than a year. If any period is specified by the prevailing law for specific work or a specific training period is required for it, a trainee may accordingly be employed for that period.
Employers must provide trainees with facilities not less than the minimum remuneration and other social security benefits including sick leave, gratuity, provident fund, and insurance. Employers are not to be compelled to continue employing the trainee after the training period is completed. If the employee engages the trainee at work, the probation period must not apply to the trainee.

The Labor Act is one of the ticklish issues which employers must follow. All companies should comply with provisions of the Labour Act, and if any law is violated then penalties are imposed on them. If an employer is found engaging a trainee against the provision of the labor act, a fine up to 10,000 can be imposed.
If you require any assistance finding trainees suitable for your company click here.