In a recent survey conducted by merojob, we came across an alarming number. 11% of employees plan to quit their job within six months and 61% of employees are already looking for a new job.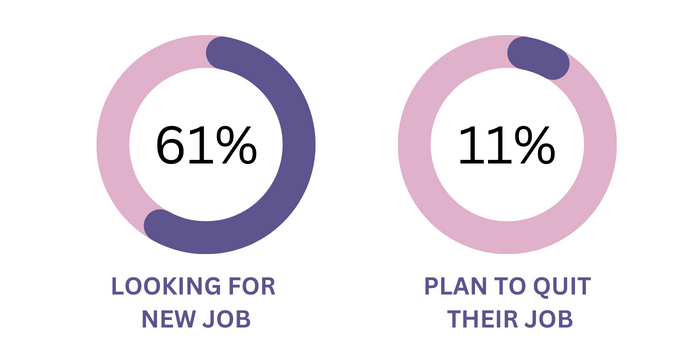 As employers, these statistics can be frightening. Hiring managers set the best time for the interview and hire the ones who they believe are the best fit for the work. After analyzing the employee's performance, it is natural for companies to want high achievers to stick around for a long period.
Significance of Stay interviews
Stay interview is not a new concept and companies have been practicing this retention method way before. However, to dial up the retention process stay interview are being heard more often.
Contrary to what many believe, a stay interview is not a one-to-one conversation where an employer tends to convince the departing employee to stay. Instead, a stay interview is when long-term and high-performing employees are given a chance to provide honest feedback about their work and the company.
It is an in-person meeting where the employers try to uncover what might make the employee motivated and establishes trust between supervisors and their team.
A stay interview is a valuable tool that helps employers figure out the reason their employees are staying with them and what improvements can be made.
Making use of stay interviews ensure that employee grievances are resolved and taken care of. By addressing any issue beforehand and solving it, managers can ensure that employees are on the path they wish to be on.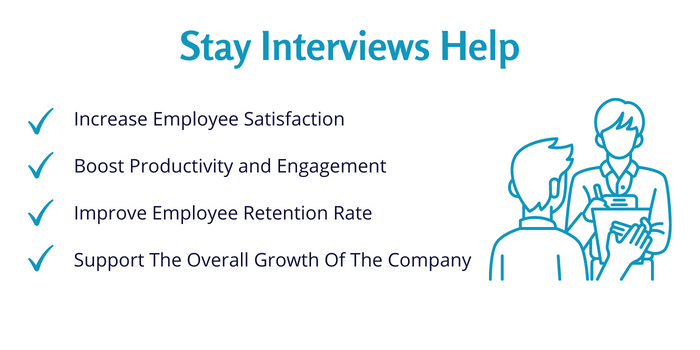 How to conduct a Stay Interview
Here are some ways to conduct stay interviews:
Schedule the interview
Set a time for a stay interview and inform the employees when they will be interviewed. This ensures that the employees are not taken by surprise when called for the interview. Besides, employees also get time to prepare for what they have to say at the interview.

Execute the interview in person
Employees will only share how they feel about their work freely only when they feel a sense of safety and that they can speak honestly without the fear of upsetting anyone or knowing their feedback will be genuinely accepted. Hence, it is best to conduct these interviews in person or privately where employees can feel comfortable.
Ask questions that matter
Stay interviews should focus on employees; how employees feel about the work they do every day and the company in general. Questions such as 'How can we improve the company culture' are too vague and won't lead to actionable results. Instead, managers should be asking more relatable questions which will uncover authentic responses that will bring positive changes to the company. Here are some questions to ask at the stay interview:
What motivates you to come to work every day?
How do you feel about the impact you are making through your work?
What things do you dislike about your everyday job?
When did you last think about quitting your job?
What made you think of leaving the company?
What excites you the most about your work?
What kind of growth have you seen personally and professionally after working in the company?
If you get to be the manager for a day, what things would you change?
What would make your job even more satisfying?
Listen and take notes:
Employees leaving their job is the result of employers not listening to their employees. To avoid this, create better opportunities for the team members to talk with their leaders and HR. Supervisors need to be nonpunitive and listen to the employees with an open mind. As a supervisor, you need to know what employees enjoy about their work and what improvements need to be made.
Stay accountable after the meeting:
Conducting a stay interview means nothing if changes are not made after hearing feedback from the employees. To end the stay interview on a strong note, following steps can be taken.
Thank the worker for their time and honesty, summarize the feedback you heard, talk about what possible improvement steps will be taken, and provide a clear picture of what employees can expect will be different after the discussion.
To explore more HR-related blogs click here.