The minimum salary is the lowest amount a worker must be legally paid for their contribution to the work. Most countries have a nationwide minimum wage that all workers must be paid.

The government of Nepal has set the minimum monthly salary for the employees at Rs 15,000. The notice was announced on 3rd May 2021, on behalf of the Nepal Government, the Ministry of Labour, Employment and Social Security starting that the minimum wage of the workers will be raised more than 11% with effect from 1st Shrawan, 2078 i.e. 16th July 2021.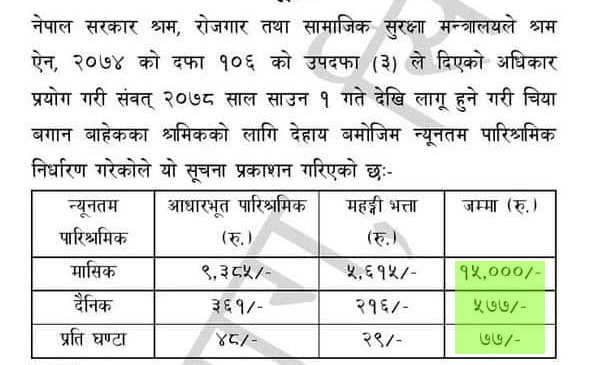 Newly Fixed Wages Details:
In addition to the above wages, facilities such as provident funds and allowance are to be provided to the workers. Also, no employment agreement may be entered into with a wage less than the minimum wage mentioned.
Before the minimum salary proposed to the employee was Rs 13,450 per month. The minimum salary of Rs 15,000 includes Rs 9,385 in basic salary and Rs 5,615 inflation allowance. The notice has also stated that the employment agreement should ensure workers are not paid less than the prescribed wage.
It is applicable for all the workers, including regular employees, work-based employees, time-based employees, casual employees and part-time employees.
Regular employment
A person hired for work other than work-based employment, time-based employment and casual employment.
Work-based employment
A person hired for carrying out specific work or rendering specific service.
Time-based employment
A person hired for carrying out work or rendering service for a definite period.
Casual employment
A person hired for seven days or less than seven days in a month
Part-time employment
A person hired in such a manner that he works for 35 hours or less in a week.
Penalties
Labour Department and Labour Court can impose the following sanctions to the Employer on the following nature of non-compliance: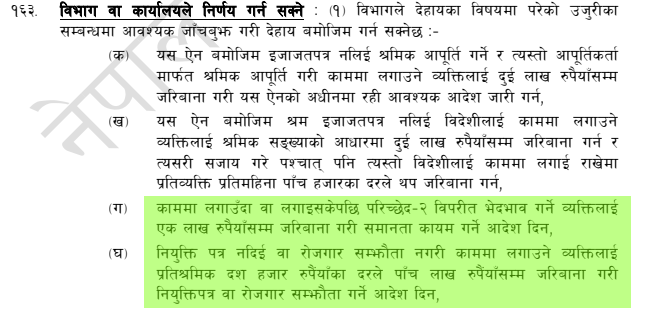 To learn more about content related to career and job guidelines click here.