A work experience letter is a document that confirms the employee's employment history. An experience letter issued to an employee plays a vital role when applying for a new job as well as for pursuing higher education. An experience letter is issued by the employer to the employee when he/she leaves the company. Such a letter certifies the duration of employment in the company and the role performed by the employee.

Significance of Work Experience Letter
The experience letter issued by the company is concrete evidence of the employee's work experience.

The letter serves as a document that can support the experience mentioned in the resume of an employee.

The expertise and performance of the employee at the previous job are stated in the letter, and the recruiter can use that information as a reference in deciding your salary.

The experience letter will help people get better job opportunities and are also important for further studies.

With the help of the experience letter, one can get admission, a scholarship, or an assistantship for abroad studies and jobs.

When an employee wants to withdraw Social Security Fund, an experience letter from the previous company is required to be submitted.
We all know the importance of work experience and how difficult it can be to get a job with no experience.
As mentioned in the Labor Act, when the employee whose employment has been terminated requests for a certificate of experience, the employer shall give the certificate of work experience, stating the period of service and position of the employee.
It is unlikely for companies to provide the letter if the employee has conducted any default or is guilty of any criminal offense or remains absent without any notice as prescribed by the company.
Depending on the reason an employee was terminated from the company, the employer may decide whether the experience letter must be provided or not.
For Employees requesting for experience letter
When applying for a new job or transferring to a new company, the employees may be asked for an experience letter by the new organization. An experience letter should be issued by your former employer, and it should confirm the previous employee's dates of employment, job title, and duties. It's important to make sure that the letter is dated and includes the employer's contact information.
Email sample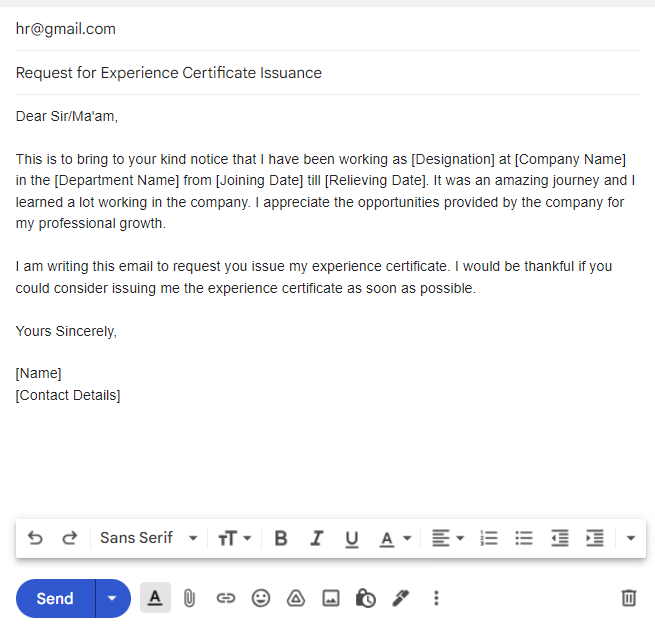 For Employer's experience letter format sample
When issuing an experience letter employers should keep it concise yet impactful. Employers should consider including details like the employee's full name, company's letterhead, employee's job title or designation, and a brief description of the employee.
Work Experience Letter Sample