Every company's culture is uniquely shaped by its leaders and the collective efforts of its employees.
While work culture can differ from company to company, there are some factors that serve as indicators of a fulfilling and joyful work environment.
Observable traits of a positive and thriving company culture:
Empowered and engaged employees

Low Turnover and High Retention

Continuous Learning and Development

Recognition and Rewards
Benefits of creating a positive culture in the workplace
Creating a productive environment is beneficial both for the company and its employees in numerous ways.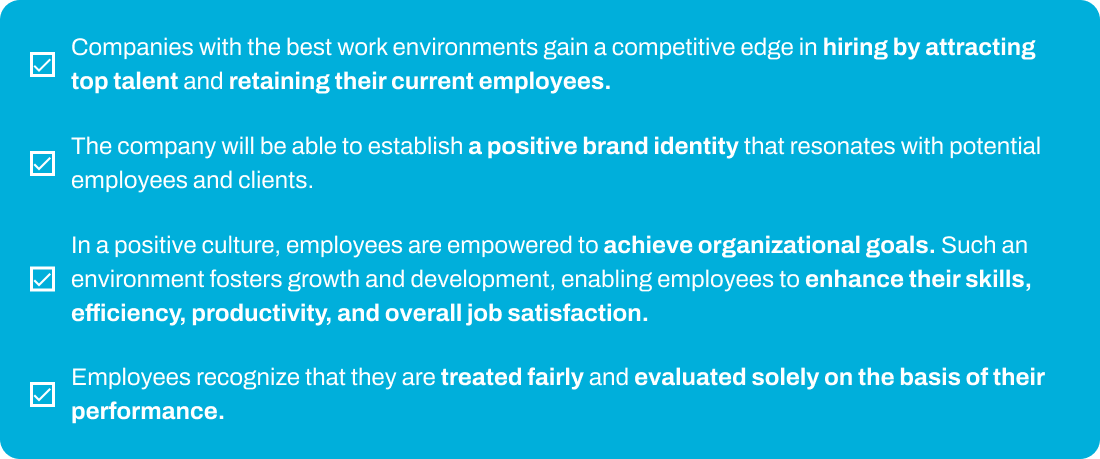 Tips for building a positive team culture
With all the benefits in mind, consider these steps for building a positive team culture:
Discuss Success:
Engage in open dialogue about what success means for the company and how it would impact employees' professional lives.
Leaders should encourage this discussion, as it can reinforce positive energy among the team.
Set Goals:
Talk about setting goals and what needs to be done to achieve those goals. Do it once a quarter with the team for a major brainstorming session. Work with the team to identify individual and group goals they want to pursue.
Working collaboratively to achieve a shared goal is both uplifting and rewarding, especially when team members know the actions required to reach those objectives.
Discuss Values:
Find out from your team the values that they believe are of utmost importance. Only by engaging in an open discussion can it become clear that values such as respect, innovation or integrity are of utmost importance to them.
Embracing these values not only enhances employee well-being but also sustains a peaceful and harmonious work culture where everyone can thrive and perform at their best.
Respect:
Building a culture where everyone is treated equally requires a strong emphasis on respect.
Leaders play an important role in setting the tone by displaying respectful behavior and ensuring that everyone on the team feels valued and heard.
Responsibility:
Everyone must accept their role and be responsible for their actions. Each individual plays a vital role in the success of the organization.
When clear expectations are laid out and everyone acknowledges their duties and carries out their obligations, it opens the door for collaboration, advancement, and a healthy workplace culture where people flourish and reach their full potential.
Commitment:
In fostering a positive work culture, it is crucial for everyone to demonstrate commitment to the team, training and goals.
When each team member is committed, it creates a sense of unity and an environment of trust and support. A culture of commitment inspires and motivates others to put forth their best efforts, ultimately resulting in shared achievements and a vibrant workplace.
Continuous Development:
Building a positive team culture takes time; it is not something that happens overnight.
It goes beyond initial efforts and requires a long-term commitment from everyone involved in the company. It is a journey that requires dedication, effective open communication and a willingness to adapt and grow.
Praise:
Too many workers hear about the errors they made and their minds get stuck in negativity. So speak in a positive and joyful manner. Make sure that the employees receive praise for their good work while also offering a healthy dose of constructive criticism to ensure that they are on the right path.
Ensuring appropriate praise and recognition within a team is crucial for fostering a positive and supportive environment.

Support:
The foundation of any great workplace is based on support from each other. Providing honest and productive feedback and encouragement makes employees feel supported, knowing that they are on the right track and working for something meaningful.
At times of difficulty, teams and leaders can come together to find appropriate solutions. This way, employees trust and respect their leaders.
Work Together:
When faced with uncertainty and challenges, the team's strength lies in its ability to come together and assist one another.
This allows the team members to brainstorm, gain perspective and come up with problem-solving strategies to effectively overcome the obstacles.
Team Building:
When employees know each other and are comfortable working in a group, it leads to thriving and cohesive team dynamics.
Engaging in team-building activities is an effective way to motivate employees to interact and build a deeper understanding among team members. These activities create a relaxed environment, improving productivity and morale.
Lead by Example:
When employees see leaders demonstrate empathy, resilience and strong work ethics, they are inspired to follow those qualities.
Leaders are the guiding beacons of behavior and values, setting the tone for the entire organization. Have a number of key role models who people can look up to and set a powerful example of trust and positivity in the workplace.
Clear Expectations:
Identify clear expectations for the team; employees must clearly understand what's important and what's not. As leaders, it is important to set clear goals and make the employees understand how their work can contribute to the organization's success.
Ask them about their expectations of you as a leader. Understanding their expectations helps adjust the leadership style and actions accordingly.
Be Patients:
In the fast-paced world, we live in, it can be tempting to want quick results. It takes persistence, perseverance and patience to cultivate a positive workplace culture since it includes persuading individuals to change their perspectives.
Building a team culture takes time and it is essential to be patient with the process.
Communicate:
Effective communication is the building block of a creative and positive work culture. It involves expressing ideas clearly and actively listening to others.
To ensure proper communication, it is essential to ask the right questions. This also involves being open to feedback and creating a safe place for everyone to express themselves.
Building a positive work culture is an ongoing effort that brings numerous benefits to both the company and its employees. By implementing these tips, leaders can create an environment where employees feel empowered, engaged and motivated to contribute their best work.
Explore HR Insider, the ultimate blog for HR professionals, seeking insightful views and valuable information about the HR industry.