Job Category

:

Accounting / Finance
Job Level

:

Mid Level
No. of Vacancy/s

:

[ 1 ]
Employment Type

:

Full Time
Apply Before

(Deadline)

:

Aug. 14, 2019, 5 p.m. (3 months ago)
---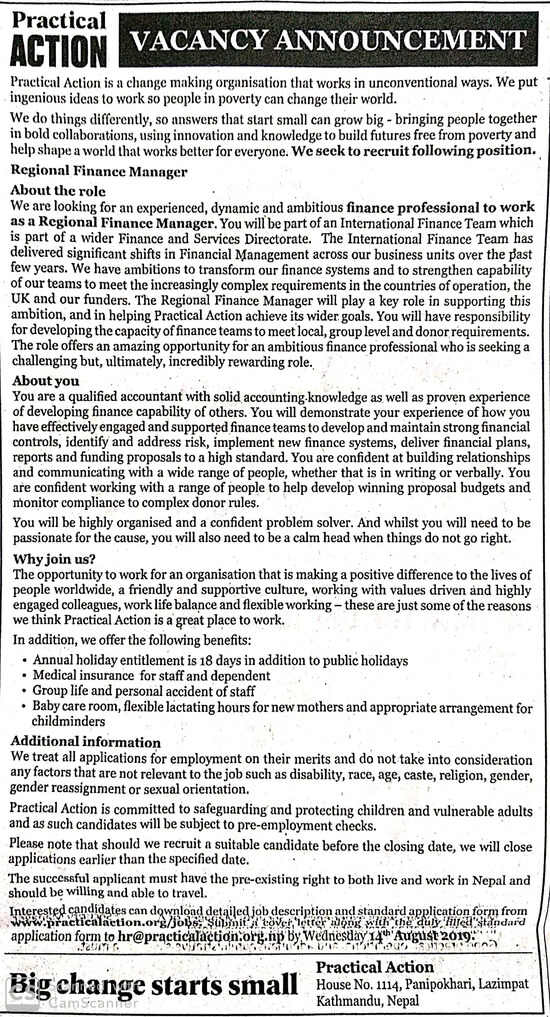 About the Role:

We are looking for an experienced, dynamic and ambitious finance professional to work as a Regional Finance Manager. You will be part of an International Finance Team which is part of a wider Finance and Services Directorate. The International Finance Team has delivered significant shifts in Financial Management across our business units over the past few years. We have ambitions to transform our finance systems and to strengthen capability of our teams to meet the increasingly complex requirements in the countries of operation, the | UK and our funders. The Regional Finance Manager will play a key role in supporting this ambition, and in helping Practical Action achieve its wider. goals. You will have responsibility for developing the capacity of finance teams to meet local, group level and donor requirements. The role offers an amazing opportunity for an ambitious finance professional who is seeking a challenging but, ultimately, incredibly rewarding role.
About You:
You are a qualified accountant with solid accounting-knowledge as well as proven experience

of developing finance capability of others

You will demonstrate your experience of how you

have effectively engaged and supported finance teams to develop and maintain strong financial 

controls, identify and address risk, implement new finance systems, deliver financial plans, 

reports and funding proposals to a high standard

You are confident at building relationships 

and communicating with a wide range of people, whether that is in writing or verbally

You 

are confident working with a range of people to help develop winning proposal budgets and 

monitor compliance to complex donor rules

You will be highly organised and a confident problem solver. And whilst you will need to be 

passionate for the cause, you will also need to be a calm head when things do not go right
Why Join us:
The opportunity to work for an organisation that is making a positive difference to the lives of people worldwide, a friendly and supportive culture, working with values driven and highly engaged colleagues, work life balance and flexible working these are just some of the reasons we think Practical Action is a great place to work.
In addition, we offer the following benefits:
Annual holiday entitlement is 18 days in addition to public holidays
Medical insurance for staff and dependent
Group life and personal accident of staff
Baby care room, flexible lactating hours for new mothers and appropriate arrangement for 

childminders
Additional information:
We treat all applications for employment on their merits and do not take into consideration 

any factors that are not relevant to the job such as disability, race, age, caste, religion, gender, 

gender reassignment or sexual orientation

Practical Action is committed to safeguarding and protecting children and vulnerable adults _ 

and as such candidates will be subject to pre-employment checks

Please note that should we recruit a suitable candidate before the closing date, we will close 

applications earlier than the specified date

The successful applicant must have the pre-existing right to both live and work in Nepal and 

should be Willing and able to travel
Interested candidates can download detailed job description and standard application form from www.practicalaction.org/jobs. Submit a cover letter along with the duly filled standard application form to hr@practicalaction.org.np by Wednesday 14th August 2019
Big change smarts small
Practical Action
House No. 1114, Panipokhari, Lazimpat, Kathmandu, Nepal