Job Category

:

NGO / INGO / Social work
Job Level

:

Mid Level
No. of Vacancy/s

:

[ 1 ]
Employment Type

:

Full Time
Apply Before

(Deadline)

:

Aug. 18, 2019, 5 p.m. (5 months, 1 week ago)
---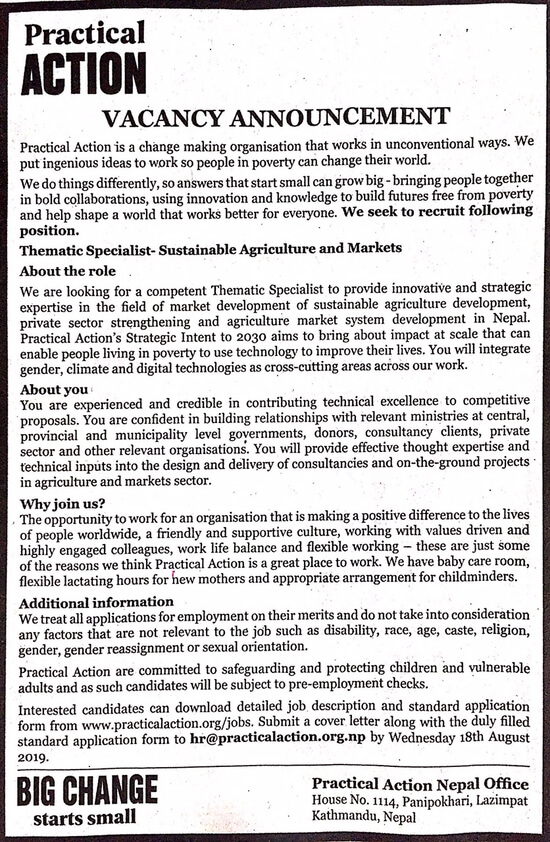 About the role : 
We are looking for a competent Thematic Specialist to provide innovative and strategic expertise in the field of market development of sustainable agriculture development, private sector strengthening and agriculture market system development in Nepal. Practical Action's Strategic Intent to 2030 aims to bring about impact at scale that can enable people living in poverty to use technology to improve their lives. You will integrate gender, climate and digital technologies as cross cutting areas across our work. 
About you :
You are experienced and credible in contributing technical excellence to competitive proposals. You are confident in building relationships with relevant ministries at central, provincial and municipality level governments, donors, consultancy clients, private sector and other relevant organisations. You will provide effective thought expertise and technical inputs into the design and delivery of consultancies and on-the-ground projects in agriculture and markets sector. 
Why join us? 
The opportunity to work for an organisation that is making a positive difference to the lives of people worldwide, a friendly and supportive culture, working with values driven and highly engaged colleagues, work life balance and flexible working — these are just some of the reasons we think Practical Action is a great place to work. We have baby care room, flexible lactating hours for clew mothers and appropriate arrangement for childminders.
Additional information :
We treat all applications for employment on their merits and do not take into consideration any factors that are not relevant to the job such as disability, race, age, caste, religion, gender, gender reassignment or sexual orientation. 
Practical Action are committed to safeguarding and protecting children and vulnerable adults and as such candidates will be subject to pre-employment checks. 
Interested candidates can download detailed job description and standard application form from www.practicalaction.org/jobs. Submit a cover letter along with the duly filled standard application form to [email protected] by Wednesday 18th August 2019. 
Practical Action Nepal Office
House No. 1114, Panipokhari, Lazimpat
Kathmandu, Nepal