---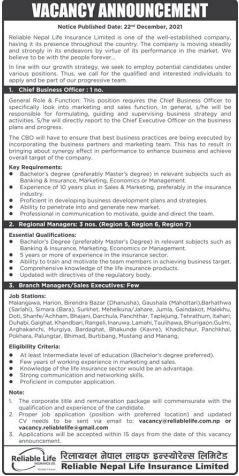 Reliable Nepal Life Insurance Limited is one of the well-established company, having it its presence throughout the country. The company is moving steadily and strongly in its endeavors by virtue of its performance in the market. We believe to be with the people forever.
In line with our growth strategy, we seek to employ potential candidates under various positions. Thus, we call for the qualified and interested individuals to apply and be part of our progressive team.

Regional Managers: 3 nos. (Region 5, Region 6, Region 7)
Essential Qualifications:

Bachelor's Degree (preferably Master's Degree) in relevant subjects such as Banking & insurance, Maqrketing, Economics or Management.

5 years or more of experience in the insurance sector.

Ability to train and motivate the team member in achieving business target.

Comprehensive knowledge of the life insurance products.

Updated with directives of the regulatory body.
Note:
1. The corporate title and remuneration package will commensurate with the qualification and experience of the candidate.
2. Proper job application (position with preferred location) and updated CV needs to be sent via email to: [email protected] or [email protected]
3. Applications will be accepted within 15 days from the date of this vacancy announcement.