---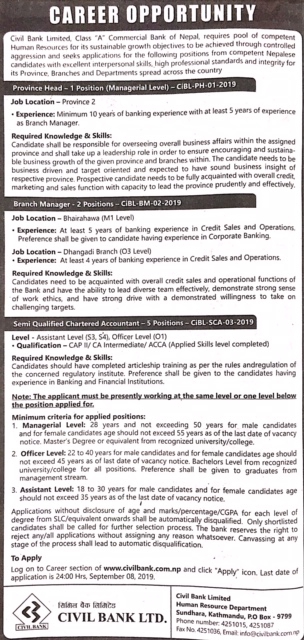 Job Location : Province 2
Experience : Minimum 10 years of banking experience with at least 5 years of experience as Branch Manager.
Required Knowledge & Skills:
Candidate shall be responsible for overseeing overall business affairs within the assigned province and shall take up a leadership role in order to ensure encouraging and sustainable business growth of the given province and branches within. The candidate needs to be business driven and target oriented and expected to have sound business insight of respective province. Prospective candidate needs to be fully acquainted with overall credit, marketing and sales function with capacity to lead the province prudently and effectively.
Note: The applicant must be presently working at the same level or one level below the position applied for.
Minimum criteria for applied positions:
Managerial Level: 28 years and not exceeding 50 years for male candidates 

and for female candidates age should not exceed 55 years as of the last date of vacancy 

notice. Master's Degree or equivalent from recognized university/college.

Officer Level: 22 to 40 years for male candidates and for female candidates age should 

not exceed 45 years as of last date of vacancy notice. Bachelors Level from recognized 

university/college for all positions. Preference shall be given to graduates from 

management stream.

Assistant Level: 18 to 30 years for male candidates and for female candidates age 

should not exceed 35 years as of the last date of vacancy notice.
Note: Applications without disclosure of age and marks/percentage/CGPA for each level of degree from SLC/equivalent onwards shall be automatically disqualified. Only shortlisted candidates shall be called for further selection process. The bank reserves the right to reject any/all applications without assigning any reason whatsoever. Canvassing at any stage of the process shall lead to automatic disqualification.
Log on to Career section of www.civilbank.com.np and click "Apply" icon. Last date of application is 24:00 Hrs, September 08, 2019.
Civil Bank Limited
Human Resource Department
Sundhara, Kathmandu, P.O Box - 9799
Phone No: 4251015, 4251087
Fax No. 4251036, Email: [email protected]