---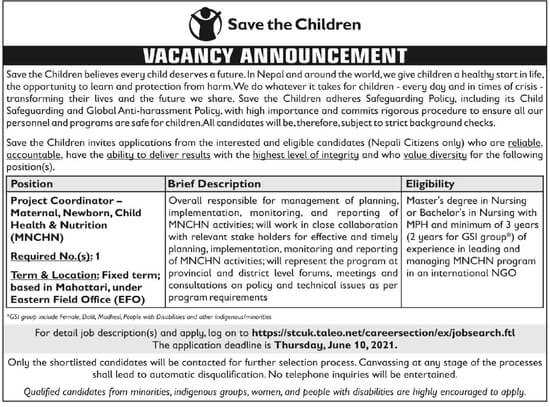 Save the Children believes every child deserves a future. In Nepal and around the world, we give children a healthy start in life, the opportunity to learn, and protection from harm. We do whatever it takes for children - every day and in times of crisis - transforming their lives and the future we share. Save the Children adheres to Safeguarding Policy, including its Child Safeguarding and Global Anti-harassment Policy, with high importance and commits rigorous procedure to ensure all our personnel and programs are safe for children. All candidates will be, therefore, subject to strict background checks.
Save the Children invites applications from the interested and eligible candidates (Nepali Citizens only) who are reliable, accountable, have the ability to deliver results with the highest level of integrity and who value diversity for the following position(s).
Term & Location: Fixed term; based in Mahottari, under Eastern Field Office (EFO)  
Brief Description: Overall responsible for the management of planning, implementation, monitoring, and reporting of (MNCHN) activities; will work in close collaboration with relevant stakeholders for effective and timely planning, implementation, monitoring, and reporting of MNCHN activities; will represent the program at provincial and district level forums, meetings and consultations on policy and technical issues as per program requirements.
Eligibility: Master's degree in Nursing or Bachelor's in Nursing with  MPH and minimum of 3 years (2 years for GSI group*) of experience in leading and managing MNCHN program in an international NGO 
*GSI group include Female, Dalit, Madhesi, People with Disabilities and other indigenous/minorities
For detailed job description(s) and apply, log on to https://stcuk.taleo.net/careersection/ex/jobsearch.ftl 
The application deadline is Thursday, June 10, 2021. Only the shortlisted candidates will be contacted for the further selection process. Canvassing at any stage of the process shall lead to automatic disqualification. No telephone inquiries will be entertained.
Qualified candidates from minorities, indigenous groups, women, and people with disabilities are highly encouraged to apply.