---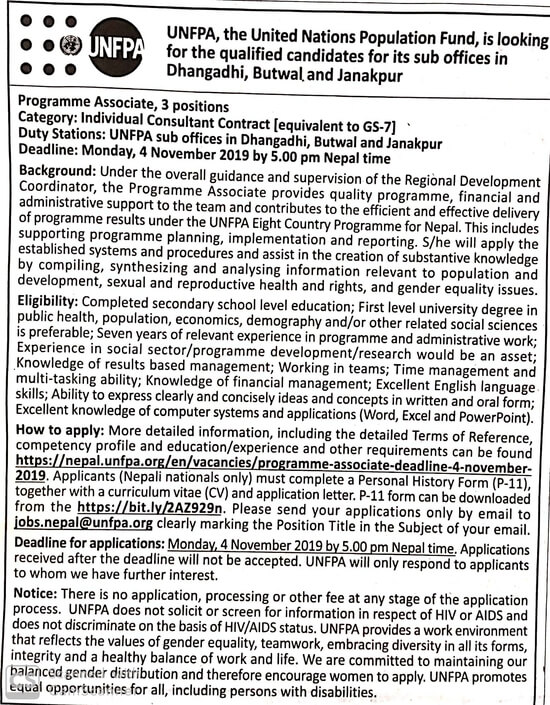 Category : Individual Consultant Contract [equivalent to GS-7]
Duty Stations : UNFPA sub offices in Dhangadhi, Butwal and Janakpur
Deadline : Monday, 4 November 2019 by 5.00 pm Nepal time
Eligibility : 
Completed secondary school level education; First level university degree in public health, population, economics, demography and/or other related social sciences is preferable; Seven years of relevant experience in programme and administrative work; Experience in social sector/programme development/research would be an asset; Knowledge of results based management; Working in teams; Time management and multi-tasking ability; Knowledge of financial management; Excellent English language. skills; Ability to express clearly and concisely ideas and concepts in written and oral form; Excellent knowledge of computer systems and applications (Word, Excel and PowerPoint).
Notice : 
There is no application, processing or other fee at any stage of the application process. UNFPA does not solicit or screen for information in respect of HIV or AIDS and does not discriminate on the basis of HIV/AIDS status. UNFPA provides a work environment that reflects the values of gender equality, teamwork, embracing diversity in all its forms, integrity and a healthy balance of work and life. We are committed to maintaining our balanced gender distribution and therefore encourage women to apply. UNFPA promotes equal opportunities for all, including persons with disabilities.
More detailed information, including the detailed Terms of Reference, competency profile and education/experience and other requirements can be found https://nepal.unfpa.org/en/vacancies/programme-associate-deadline-4 november-2019. Applicants (Nepali nationals only) must complete a Personal History Form (P-11), together with a curriculum vitae (CV) and application letter. P-11 form can be downloaded from the https://bit.ly/2AZ929n. Please send your applications only by email to [email protected] clearly marking the Position Title in the Subject of your email. 
Deadline for applications : Monday, 4 November 2019 by 5.00 pm Nepal time. Applications received after the deadline will not be accepted. UNFPA will only respond to applicants to whom we have further interest.
 The United Nations Population Fund