---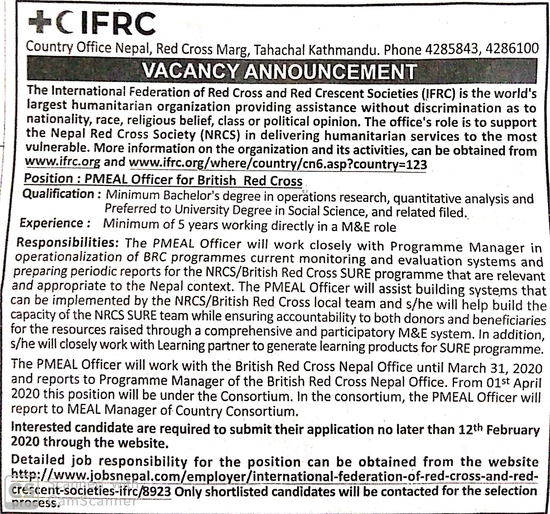 Qualification:

Minimum Bachelor's Degree in operations research, quantitative analysis and preferred to University Degree in Social Science, and related field
Experience:

Minimum of 5 years working directly in a M&E role
Responsibilities:
The PMEAL Officer will work closely with Programme Manager in operationalization of BRC programmes current monitoring and evaluation systems and preparing periodic reports for the NCRS/ British Red Cross SURE programme that are relevant and appropriate to the Nepal context. The PMEAL Officer will assist building systems that can be implemented by the NCRS/ British Red Cross local team and s/he will help build the capacity of the NCRS SURE team while ensuring accountability to both donors and beneficiaries for the resources raised  through a comprehensive and participatory M&E system. In addition, s/he will closely work with Learning partner to generate learning products for SURE programme.
The PMEAL Officer will not work with the British Red Cross Nepal Office until March 31, 2020 and reports to Programme Manager of the British Red Cross Nepal Office. From 01st April 2020 this position will be under the Consortium. In the consortium, the PMEAL Officer report to MEAL Manager of Country Consortium