---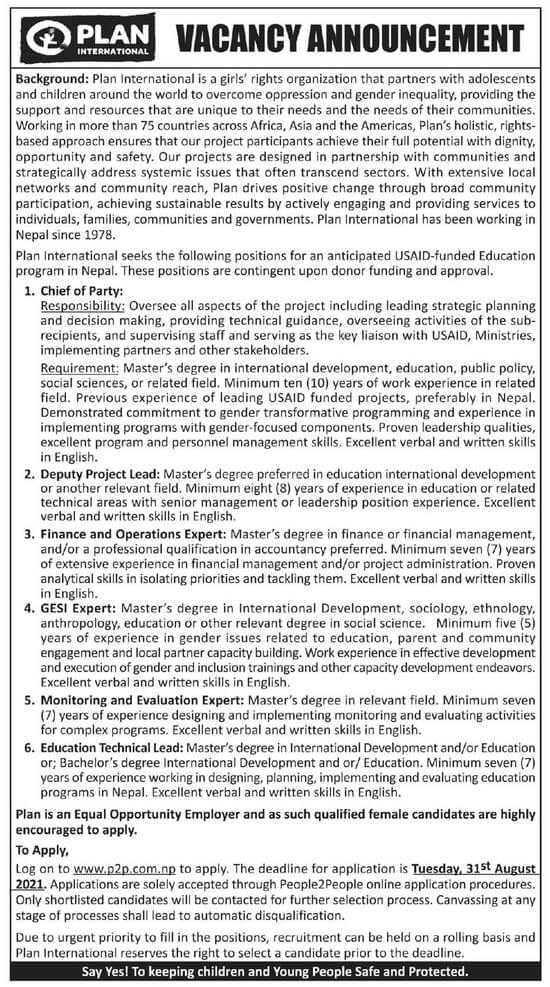 Background: Plan International is a girls' rights organization that partners with adolescents and children around the world to overcome oppression and gender inequality, providing the support and resources that are unique to their needs and the needs of their communities. Working in more than 75 countries across Africa, Asia and the Americas, Plan's holistic, rights-based approach ensures that our project participants achieve their full potential with dignity, opportunity and safety. Our projects are designed in partnership with communities and strategically address systemic issues that often transcend sectors. With extensive local networks and community reach, Plan drives positive change through broad community participation, achieving sustainable results by actively engaging and providing services to individuals, families, communities and governments. Plan International has been working in Nepal since 1978. Plan International seeks the following positions for an anticipated USAID-funded Education program in Nepal. These positions are contingent upon donor funding and approval.
Requirements: Master's degree in International Development, sociology, ethnology, anthropology, education or other relevant degree in social science. Minimum five (5) years of experience in gender issues related to education, parent and community engagement and local partner capacity building. Work experience in effective development and execution of gender and inclusion trainings and other capacity development endeavors. Excellent verbal and written skills in English.
Plan is an Equal Opportunity Employer and as such qualified female candidates are highly encouraged to apply.
To Apply,
Log on to www.p2p.com.np to apply. The deadline for application is Tuesday, 31st August 2021. Applications are solely accepted through People People online application procedures. Only shortlisted candidates will be contacted for further selection process. Canvassing at any stage of processes shall lead to automatic disqualification.
Due to urgent priority to fill in the positions, recruitment can be held on a rolling basis and Plan International reserves the right to select a candidate prior to the deadline.
Say Yes! To keeping children and Young People Safe and Protected.