---
| | | |
| --- | --- | --- |
| Education Level | : | Master |
| Experience Required | : | More than or equals to 8 years |
---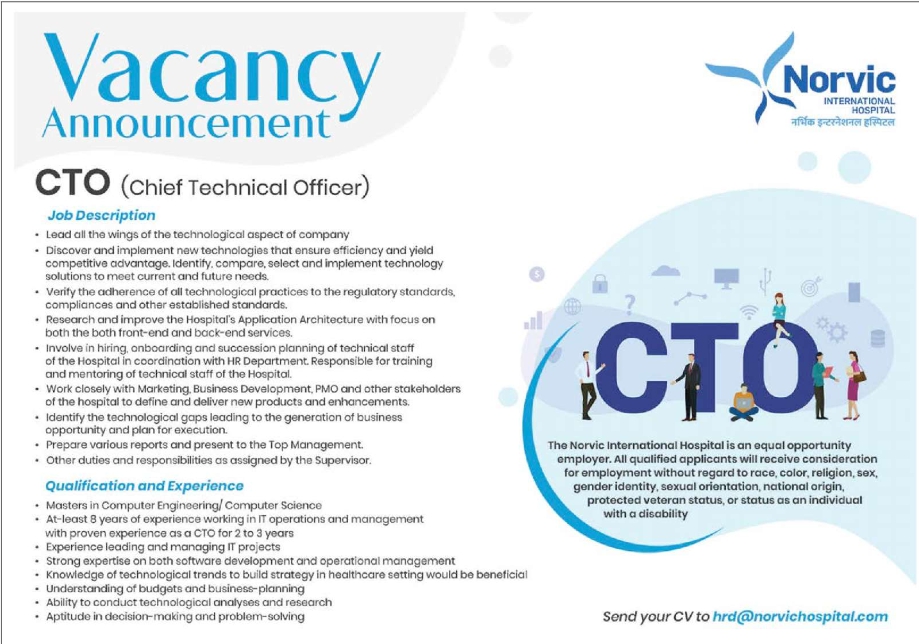 Norvic International Hospital
CTO (Chief Technical Officer)

Job Description 
Lead all the wings of the technological aspect of company 

Discover and implement new technologies that ensure efficiency and yield competitive advantage. Identify.compare, select and implement technology solutions to meet current and future needs. 

Verify the adherence of all technological practices to the regulatory standards, compliances and other established standards. 

 Research and improve the Hospital's Application Architecture with focus on both the front-end and back-end services. •

Involve in hiring, onboarding and succession planning of technical staff of the Hospital in coordination with the HR Department. Responsible for training and mentoring of technical staff of the Hospital. 

Work closely with Marketing, Business Development, PMO and other stakeholders of the hospital to define and deliver new products and enhancements. 

Identify the technological gaps leading to the generation of business opportunities and plan for execution. 

Prepare various reports and present to the Top Management.

Other duties and responsibilities as assigned by the Supervisor 

Qualification and Experience 
Masters in Computer Engineering/ Computer Science 

At-least 8 years of experience working in IT operations and management with proven experience as a CTO for 2 to 3 years 

Experience leading and managing IT projects 

Strong expertise on both software development and operational management 

Knowledge of technological trends to build strategy in healthcare setting would be beneficial 

Understanding of budgets and business planning 

Ability to conduct technological analyses and research 

Aptitude in decision-making and problem-solving
The Norvic International Hospital is an equal opportunity employer. All qualified applicants will receive consideration for employment without regard to race, color, religion, sex, gender identity, sexual orientation, national origin, protected veteran status, or status as an individual with a disability.
Send your CV to [email protected] 
This job has expired.