---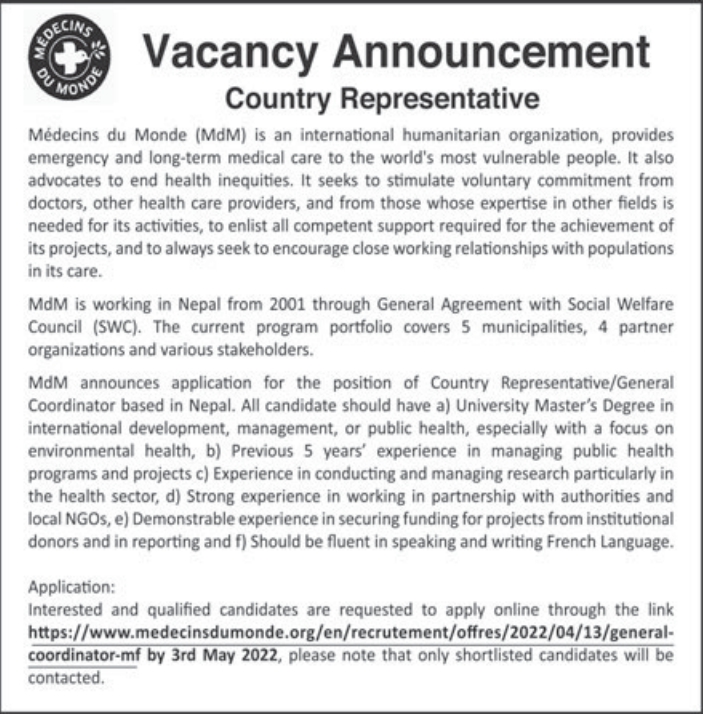 Médecins du Monde (MDM) is an international humanitarian organization, provides emergency and long-term medical care to the world's most vulnerable people. It also advocates to end health inequities. It seeks to stimulate voluntary commitment from doctors, other health care providers, and from those whose expertise in other fields is needed for its activities, to enlist all competent support required for the achievement of its projects, and to always seek to encourage close working relationships with populations in its care. 
MdM is working in Nepal from 2001 through General Agreement with Social Welfare Council (SWC). The current program portfolio covers 5 municipalities, 4 partner organizations and various stakeholders. 
MdM announces application for the position of Country Representative/General Coordinator based in Nepal. All candidate should have a) University Master's Degree in international development, management, or public health, especially with a focus on environmental health, b) Previous 5 years' experience in managing public health programs and projects c) Experience in conducting and managing research particularly in the health sector, d) Strong experience in working in partnership with authorities and local NGOs, e) Demonstrable experience in securing funding for projects from institutional donors and in reporting and f) should be fluent in speaking and writing French Language.