---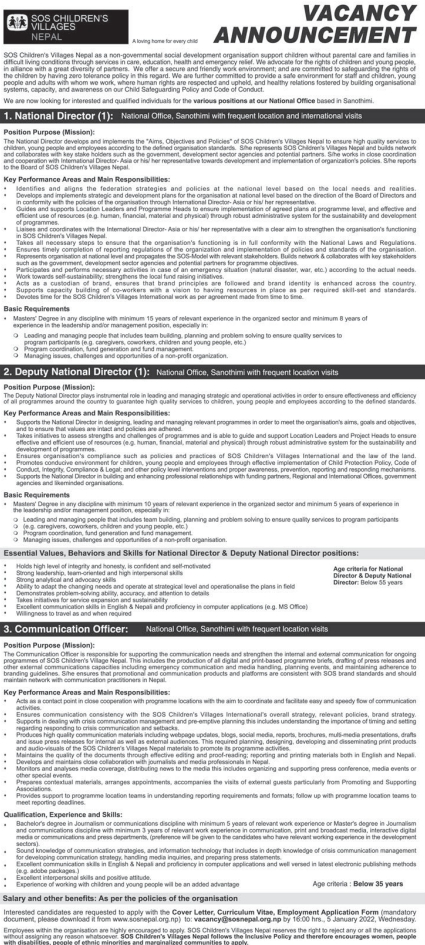 SOS Children's Villages Nepal as a non-governmental social development organization support children without parental care and families in difficult living conditions through services in care, education, health and emergency relief. We advocate for the rights of children and young people, in alliance with a great diversity of partners. We offer a secure and friendly work environment; and are committed to safeguarding the rights of the children by having zero tolerance policy in this regard. We are further committed to provide a safe environment for staff and children, young people and adults with whom we work, where human rights are respected and upheld, and healthy relations fostered by building organizational systems, capacity, and awareness on our Child Safeguarding Policy and Code of Conduct.
We are now looking for interested and qualified individuals for the various positions at our National Office based in Sanothimi.
Communication Officer: National Office, Sanothimi with frequent location visits
Position Purpose (Mission):
The Communication Officer is responsible for supporting the communication needs and strengthen the internal and external communication for  programmes of SOS Children's Village Nepal. This includes the production of all digital and print-based programme briefs, drafting of press releases and other external communications capacities including emergency communication and media handling, planning events, and maintaining adherence to branding guidelines. S/he ensures that promotional and communication products and platforms are consistent with SOS brand standards and should maintain network with communication practitioners in Nepal.

Key Performance Areas and Main Responsibilities:

Acts as a contact point in close cooperation with programme locations with the aim to coordinate and facilitate easy and speedy flow of communication activities.

Ensures communication consistency with the SOS Children's Villages International's overall strategy, relevant policies, brand strategy.

Supports in dealing with crisis communication management and pre-emptive planning this includes understanding the importance of timing and setting regarding responding to crisis communication and setbacks.

Products high quality

communication

 materials including webpage updates, blogs, social media, reports, brochures, multi-media presentations, drafts and issues press releases for internal as well as external audiences. This required planning, designing, developing and disseminating print products and audio-visuals of the SOS Children's Villages Nepal materials to promote its programme activities.

Maintains the quality of the documents through effective editing and proof-reading; reporting and printing materials both in English and Nepali.

Develops and maintains close collaboration with journalists and media professionals in Nepal.

Monitors and analyses media coverage, distributing news to the media this includes organizing and supporting press conference, media events or 

other special events.

Prepares contextual materials, arranges appointments, accompanies the visits of external guests particularly from Promoting and Supporting Associations.

Provides support to programme location teams in understanding reporting requirements and formats; follow up with programme location teams to meet reporting deadlines.
Qualification, Experience and Skills:

Bachelor's degree in Journalism or communication discipline with minimum 5 years of relevant work experience or Master's degree in Journalism and communications discipline with minimum 3 years of relevant work experience in communication, print and broadcast media, interactive digital media or communication and press departments, (preference will be given to the candidates who have relevant working experience in the development sectors.)

Sound knowledge of communication strategies, and information technology that includes in depth knowledge of crisis communication management for developing communication strategy, handling media inquiries, and preparing press statements.

Excellent communication skills in English & Nepali and proficiency in computer applications and well versed in latest electronic publishing method's (e.g. adobe packages.)

Excellent

 interpersonal skills and positive attitude.


Experience of working with children and young people will be an added advantage
Age criteria : Below 35 years
Salary and other benefits: As per the policies of the organization
Interested candidates are requested to apply with the Cover Letter, Curriculum Vitae, Employment Application Form (mandatory documents, please download it from (www.sosnepal.org.np) to: [email protected] by 16:00 hrs, 5 January 2022, Wednesday.
Employees within the organization are highly encouraged to apply: SOS Children's Villages Nepal reserve the right to reject any or all the applications without assigning any reason whatsoever. SOS Children's Villages Nepal follows the Inclusive Policy and therefore encourages women, people with disabilities, people of ethnic minorities and marginalized communicates to apply.