---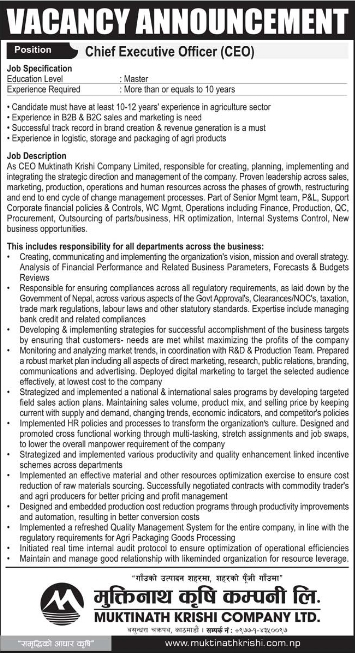 Job Specifications : 
Candidate must have at least 10-12 years' experience in agriculture sector
Experience in B2B & B2C sales and marketing is need
Successful track record in brand creation & revenue generation is a must
Experience in logistic, storage and packaging of agri products
Job Description :
As CEO Muktinath Krishi Company Limited, responsible for creating, planning, implementing and integrating the strategic direction and management of the company. Proven leadership across sales, marketing, production, operations and human resources across the phases of growth, restructuring and end to end cycle of change management processes. Part of Senior Mgmt team, P&L, Support Corporate financial policies & Controls, WC Mgmt, Operations including Finance, Production, QC, Procurement, Outsourcing of parts/business, HR optimization, Internal Systems Control, New business opportunities.
This includes responsibility for all departments across the business:
Creating, communicating and implementing the organization's vision, mission and overall strategy. Analysis of Financial Performance and Related Business Parameters, Forecasts & Budgets Reviews
Responsible for ensuring compliances across all regulatory requirements, as laid down by the Government of Nepal, across various aspects of the Govt Approval's, Clearances/NOC's, taxation, trade mark regulations, labour laws and other statutory standards. Expertise include managing bank credit and related compliances
Developing & implementing strategies for successful accomplishment of the business targets by ensuring that customers- needs are met whilst maximizing the profits of the company
Monitoring and analyzing market trends, in coordination with R&D & Production Team. Prepared a robust market plan including all aspects of direct marketing, research, public relations, branding, communications and advertising. Deployed digital marketing to target the selected audience effectively, at lowest cost to the company
Strategized and implemented a national & international sales programs by developing targeted field sales action plans. Maintaining sales volume, product mix, and selling price by keeping current with supply and demand, changing trends, economic indicators, and competitor's policies
Implemented HR policies and processes to transform the organization culture. Designed and promoted cross functional working through multi-tasking, stretch assignments and job swaps, to lower the overall manpower requirement of the company
Strategized and implemented various productivity and quality enhancement linked incentive schemes across departments
Implemented an effective material and other resources optimization exercise to ensure cost reduction of raw materials sourcing. Successfully negotiated contracts with commodity trader's and agri producers for better pricing and profit management
Designed and embedded production cost reduction programs through productivity improvements and automation, resulting in better conversion costs
Implemented a refreshed Quality Management System for the entire company, in line with the regulatory requirements for Agri Packaging Goods Processing
Initiated real time internal audit protocol to ensure optimization of operational efficiencies
Maintain and manage good relationship with likeminded organization for resource leverage