---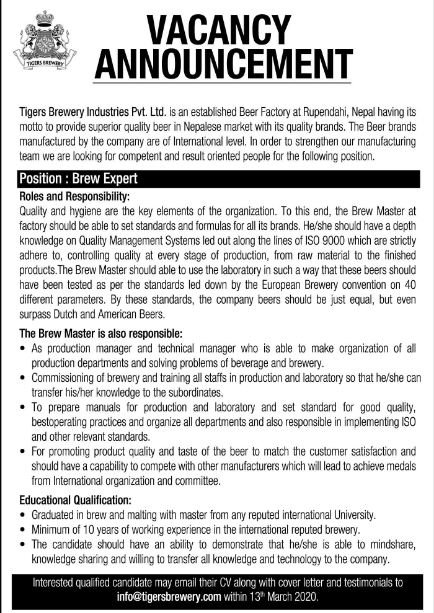 Roles and Responsibility:
Quality and hygiene are the key elements of the organization. To this end, the Brew Master at factory should be able to set standards and formulas for all its brands. He/she should have a depth knowledge on Quality Management Systems led out along the lines of ISO 9000 which are strictly adhere to, controlling quality at every stage of production, from raw material to the finished products. The Brew Master should able to use the laboratory in such a way that these beers should has been tested as per the standards, the company beers should be just equal, but even surpass Dutch and American Beers.
The Brew Master is also responsible:

As production manager and technical manager who is able to make organization of all production departments and solving problems of beverage and brewery

Commissioning of brewery and training all staffs in production and laboratory so that he/she can transfer his/her knowledge to the subordinates

To prepare manuals for production and laboratory and set standard for good quality, bestoperating practices and organize all departments and also responsible in implementing ISO and other relevant standards

For promoting product quality and taste of the beer to match the customer satisfaction and should have a capability to compete with other manufactures which will lead to achieve medals from International organization and committee 
Educational Qualification :

Graduate in brew and malting with Master from any reputed international University 

Minimum of 10 years of working experience in the international reputed brewery

The candidate should have an ability to demonstrate that he/she is able to the company 
Interested qualified candidate may email their CV along with cover letter and testimonial to [email protected] within 13th March 2020.