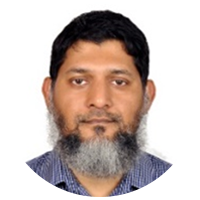 Ishtiak Ahmed Taher,
(Lead Consultant)
WorkSMART Consluting, Bangladesh
Resource Person
Ishtiak Ahmed Taher, SHRM-SCP is an expert consultant and trainer in leadership, reward &
performance management, workplace communications, human resources management and labor law
related subjects in the corporate sector in Bangladesh. He has more than a decade of experience as a
trainer and HR professional in Pharmaceuticals, Shipping & Logistics and Development sectors in
Bangladesh. Ishtiak's core competencies include, but not limited to, Executive Search, Learning and
Development, Performance Management, Compensation Management and Labour Relations.
Ishtiak worked across organizations like Square Pharmaceuticals, Maersk Line, Zuellig Pharma & Expo
Lanka Group (country partner of Global Forwarders like Schenker, EFL, Toll, Bansard etc), United
Nation's World Food Program (WFP) etc.
An MBA graduate from Institution of Business Administration (IBA), University of Dhaka; Ishtiak has also
a LLB from National University. He is also a certified SHRM-SCP (senior certified HR professional) and
also a certified SHRM Certification trainer from the prestigious SHRM (Society for Human Resources
Management, world's leading forum for HR professionals and HR certification body, based in USA).
Currently, Ishtiak is working as a Lead Consultant at WorkSMART Consulting, a management and HR
consulting firm in Bangladesh.