---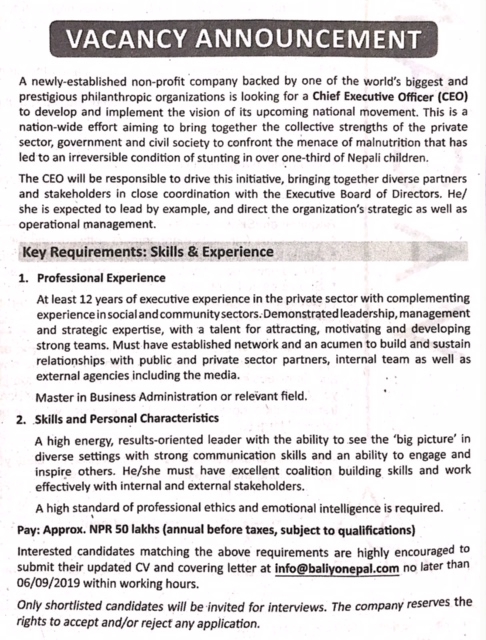 Overview: 
A newly-established non-profit company backed by one of the world's biggest and prestigious philanthropic organizations is looking for a Chief Executive Officer (CEO) to develop and implement the vision of its upcoming national movement. This is a nation-wide effort aiming to bring together the collective strengths of the private sector, government and civil society to confront the menace of malnutrition that has led to an irreversible condition of stunting in over one-third of Nepali children. 
The CEO will be responsible to drive this initiative, bringing together diverse partners and stakeholders in close coordination with the Executive Board of Directors. He/she is expected to lead by example, and direct the organization's strategic as well as operational management.
Key Requirements: Skills & Experience :
1. Professional Experience :
At least 12 years of executive experience in the private sector with complementing 

experience in social and community sectors

Demonstrated leadership, management

 and strategic expertise, with a talent for attracting, motivating and developing 

strong teams

Must-have established network and an acumen to build and sustain 

relationships with public and private sector partners, internal team as well as 

external agencies including the media

Master in Business Administration or relevant field
2. Skills and Personal Characteristics :
A high energy, results-oriented leader with the ability to see the 'big picture' in 

diverse settings with strong communication skills and an ability to engage and 

inspire others.

He/she must have excellent coalition building skills and work 

effectively with internal and external stakeholders

A high standard of professional ethics and emotional intelligence is required
Pay: Approx. NPR 50 lakhs (annual before taxes, subject to qualifications)
Interested candidates matching the above requirements are highly encouraged to submit their updated CV and covering letter at [email protected] no later than 06/09/2019 within working hours.
Only shortlisted candidates will be invited for interviews. The company reserves the rights to accept and/or reject any application.