Telling prospective candidates that they are not selected for the job is one of the most difficult things to do. However, it is crucial to do so as jobseekers have invested their time and effort to submit their application and attend the interview. The least you can do is inform them that they did not make it to further hiring process.
It's essential that you don't miss this step and fall into the busyness trap and use it as an excuse to fail to treat the applicants with respect. No matter the applicant's rejection stage, they deserve a timely communicated rejection notice.
The best candidate rejection emails are professional and personal providing adequate reason and feedback to the job seekers. It is the right balance of being positive, informative and motivating while still saying no.
Sending rejection emails is equally important as sending an email for shortlisted candidates and is a crucial part of recruitment. If you get it right, it can improve the reputation of the business. If gone wrong, it sends a negative message that can affect your business reputation and credibility.
Rejection email templates
Every email you send should be personalized for each job title, however here are some basic examples you can follow.
Email after the first interview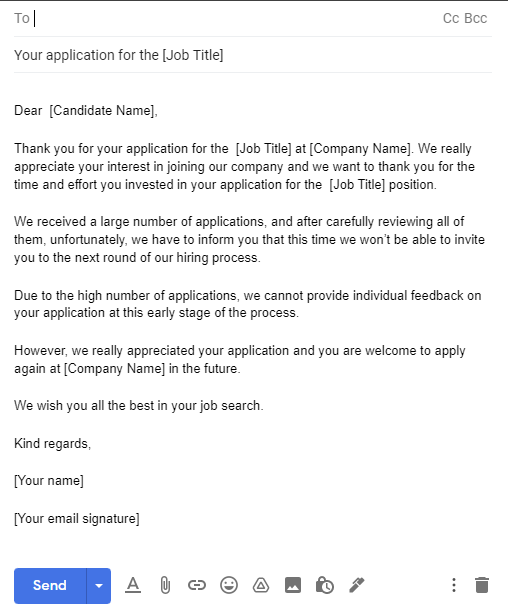 Feedback Email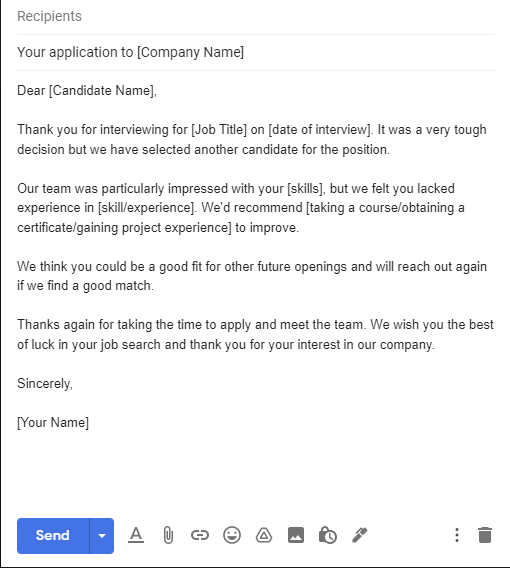 After the final interview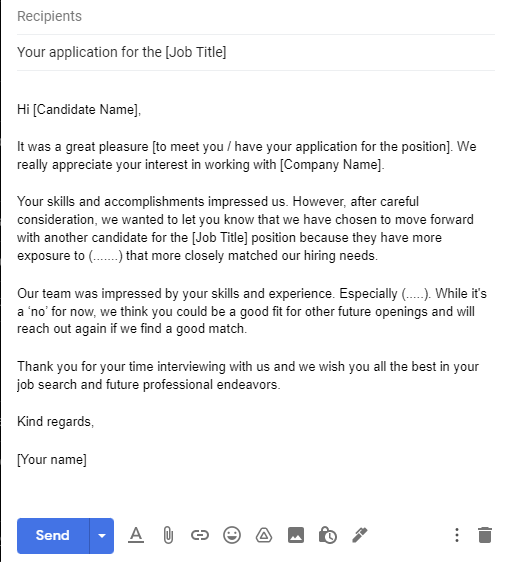 Encouraging to apply next time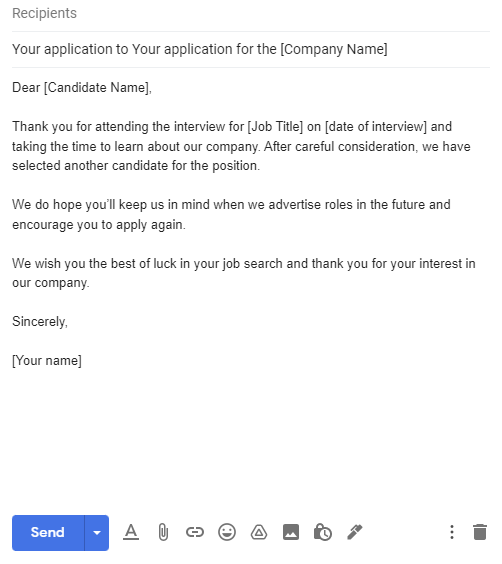 Informing an applicant that they have not been selected is never easy. No matter what you write, it is inevitable for the candidate to be a little upset. However, by writing a thoughtful letter fit for the situation, you leave the door open for future collaboration and leave a positive impression of your company.
There are no such rules that say rejection emails must be sent in a particular time frame, as opposed to providing a notice period for ending termination which is fixed. But, it is best practice to send a rejection email as soon as the management decides not to take the candidate further into the hiring process.
We hope this blog was helpful and provided some value to you.
Please do share your expertise regarding this topic in the comments below.